How to Donate to Crime Stoppers of Hamilton Inc.
Crime Stoppers of Hamilton Inc. is a non-profit charitable organization run by a volunteer community board. The program is supported by donations from individuals, concerned citizens, business, labour and service clubs. All donations to Crime Stoppers go toward the operation of the program, which includes the payment of rewards for successful tips, promotional material, board development and community events. Charitable # 118879675RR0001
There are three ways to donate.
1. Donate with Canadahelps
To make a secure donation online click the Canadahelps logo.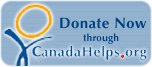 You can easily and quickly make a SECURE donation through CanadaHelps, a non-profit organization designed to make it easier to donate to Canadian charities on-line. The system is ENCRYPTED with tax receipts generated instantly.
For information about Canadahelps go to https://www.canadahelps.org/en/
For questions contact
Crime Stoppers of Hamilton at
admin@crimestoppershamilton.com
905-546-4808
2. Donate by Interac e-Transfer
To donate via Interac e-Transfer use your online banking web-page. No processing fee will be deducted from your donation. Your bank may, however, charge a service fee.
Go to your Online Banking site and click on the link for an Interac e-Transfer.
Fill in the required information, including the amount of your donation. Our account has been setup to automatically receive deposits. No security question is needed.
For a receipt, please include your complete address and any specific comments related to your gift in the message box so we can ensure you receive a receipt. A tax receipt will be issued for amounts of $10.00 or more.
Where you are asked to provide the Recipient's email address, enter
donate@crimestoppershamilton.com
For more information on Interac e-Transfer click the Interac Logo.
3. Donate by Cheque
To make a donation by cheque payable to
Crime Stoppers of Hamilton Inc., click the cheque to download our Donation Form.


Mail to:
Crime Stoppers of Hamilton
155 King William Street
Hamilton, ON, Canada
L8R 1A7

A tax receipt will be issued for amounts of $10.00 or more.
For questions contact
Crime Stoppers of Hamilton at
admin@crimestoppershamilton.com
905-546-4808